WiFi and Wireless products to make your life simple.
A great value way to automate your home!

ENER-J are passionate about technology, innovations and are working continuously on products that touch everyone's life.
With over 8 years' experience in innovative products such as LED Lighting, Solar Energy and other Carbon Reduction products, ENER-J was created to take energy efficiency products to a new dimension. Thus providing the very best in technology and innovative solutions and thereby making this world a better place to live in.
ENER-J understand that everyone is busy and information, available both online and offline can be really confusing.
"Our goal is helping you save money, save energy and reduce your carbon footprint."

"With the customer at the centre of everything we do, we find unique products that you really want but maybe never knew existed!"

"At ENER-J, we try to make things simpler and technology easy to understand, thereby giving you more free time to spend with your loved ones."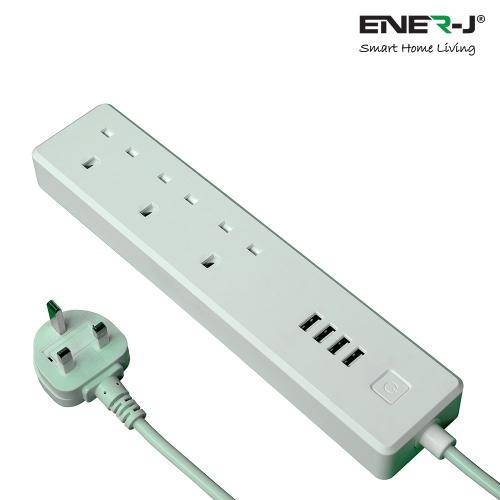 WIFI OR WIRELESS? HOW SMART!
ENER-J has a range of WiFi controlled products like In-line Switch, Smart Video Door Bell, Smart Panel Heater, Smart Bulbs, Smart Plugs, but have so much more. These items can be controlled by ENER-J's Apps giving you a plethora of functionality.
The beauty of the WiFi controlled products is that you can control your connected lighting and appliances no matter where you are in the world - thus creating the illusion of occupancy.
Their Wireless products are generally controlled by 433MHz. A range of Self-Powered Kinetic Switches have been produced to be used without the need for wiring so can be placed wherever you want with supplied self adhesive tape. As they are totally electricity free, you can have them in places deemed unsafe for conventional switches like a wet, humid environments.
Although these won't work alone, multiple Switches can be controlled with an ENER-J Amp Receiver. The Amp Receiver connects to your mobile via the ENER-J App where you can control the brightness (which only works on the Dimmable Switches), turn Off/On and view the status of the lights. Obviously you can use the switch the old-fashioned way but why would you when you can just ask Alexa!
Bluetooth is another Wireless protocol to which ENER-J has utilised. Their genius has created a waterproof Smart Fingerprint Padlock to give you increased security. If you are more into Smart Gadgets ENER-J won't leave you disappointed. From LED Smart Desk Lamps to LED Smart Ceiling Lights that have an in-built Bluetooth speaker so you can listen to your favourite music whilst creating your own lighting atmosphere.