WiFi and Wireless products to make your life simple.
A great value way to automate your home!

Mi|Home allows you to control your heating, lighting and appliances from anywhere in the world

"SIMPLE - MiHome is simple to set up and simple to use. The Gateway sets up with a swipe of your phone. Products pair after a couple of clicks. Sockets and switches can easily be retrofitted to replace existing. Setup is so simple that we promise to have you running within 10 minutes!"

"FLEXIBLE - You can add products to the MiHome modular system at anytime you want. Loving your sofa? Time to make your kettle smart! Going on holiday? Let's make your security lights smart. The beauty of the system is that you can purchase what you want when you want it with full compatibility between products."

"
SMART - Use timers and programmes to get MiHome to work to your schedule. Energy monitoring means you can understand the true cost of a 30 degree wash. Use geofencing for control via your location and make your heating come on a mile from home. Or even use IFTTT to control your heating based on the weather

."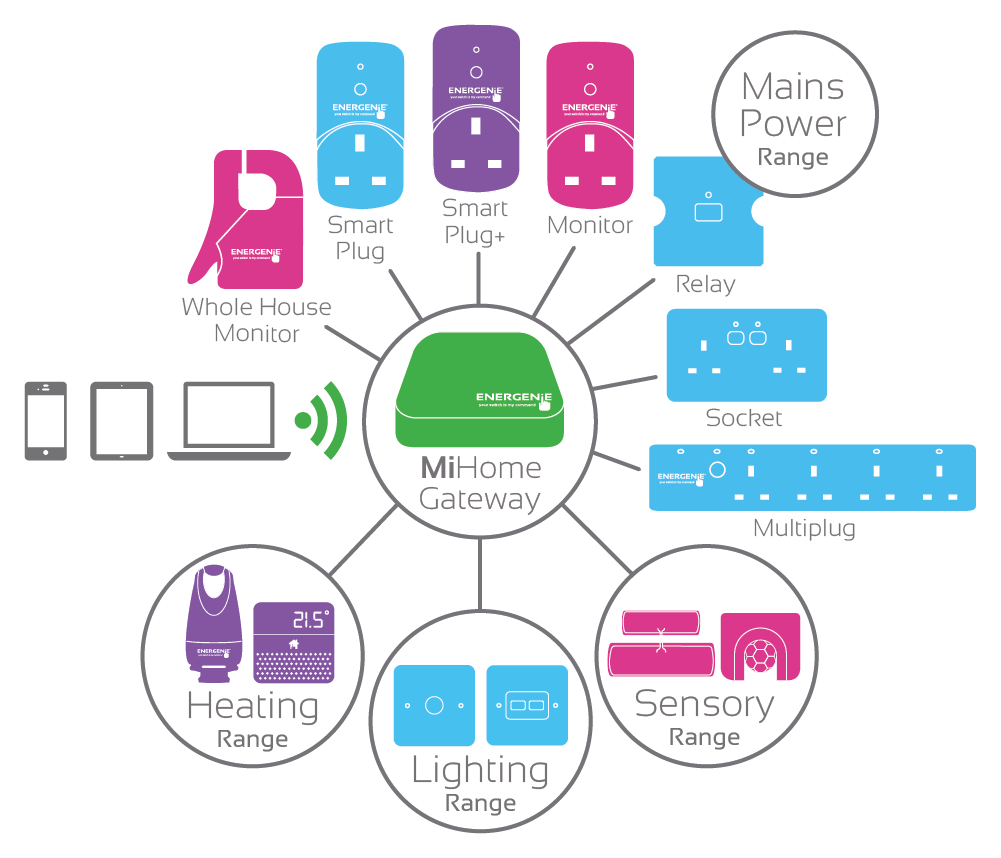 With their Mi|Home range Energenie took their existing 433Mhz products as a building block to build a complete Smart Home range.
With the Mi|Home gateway you can very quickly connect a huge range of devices to the Mi|Home App, Alexa, IFTTT, Google Home and other services. The system is also one of the very few "Works with Nest" products to your Mi|Home Radiator Valves can talk to your Nest Thermostat when a room is too cold for example.
You can use both a "Web Portal" or the Mi|Home App to setup rules, timers and other logic to control your smart home.
They operate on the 433Mhz spectrum using the OpenThings protocol. This unlike Z-Wave and Zigbee is not a "Mesh" system but has the advantage of being well away from both WiFi and Bluetooth spectrum's to avoid interference.
NO NEUTRAL WIRING
Unlike most WiFi, Zigbee and Z-Wave devices, Mi|Home are able to wire straight into your existing switch wiring without requiring a Neutral wire at the switch. This has a huge advantage as it is retrofitable to all UK houses not just those with newer wiring or needing an upgrade.

We are impressed at the quality, range and simplicity of the Mi|Home range and have used it ourselves in our own home since 2016 for lighting, Heating and Energy metering.