Smart bulbs are the simplest form of Smart Home Control & Automation, they are often the first thing we purchase when getting into the murky world of Smart Home.

Smart Bulbs like other forms of Home Control communicate on many different technology platforms.


Bluetooth Bulbs allow you a direct connection between your Phone/Tablet and a bulb using its own App. Must be in direct communication with your device to remain controllable.
WiFi Bulbs connect to your Home WiFi system and normally talk to the Manufacturers "Cloud", this allows the App or even third party App's and devices such as Amazons Echo (Alexa) and services such as IFTTT (If This Then That) to talk with the Bulb.


Next we have Zigbee and Z-Wave. These are similar in the way they work, we will discuss the differences elsewhere in another article. In essence both use a "Gateway" or "Hub" to talk to the Smart Bulb using their own Wireless system separate from your WiFi or Bluetooth systems.
The "Hub" is like a computer so you can have it turn the Bulbs on and off at certain times, when the light level in the room is low or pair them motion sensors etc. You then connect the Hub with the Hubs own App or use the Hubs connection to Alexa/Google Home. This has the benefit you are not relying on the Bulb manufacturers "Cloud" for control.

WHAT COLOURS ARE AVAILABLE?
Smart Bulbs come in a variety of shapes and colours. The most common are Warm White, Day White, Dimmable White and last but certainly not least RGB.
RGB and RGBW are a fantastic tool for creating mood. All colours are made up of a different balance of Red, Green and Blue. By tuning the amount of each of these you are able to create millions of possible colours.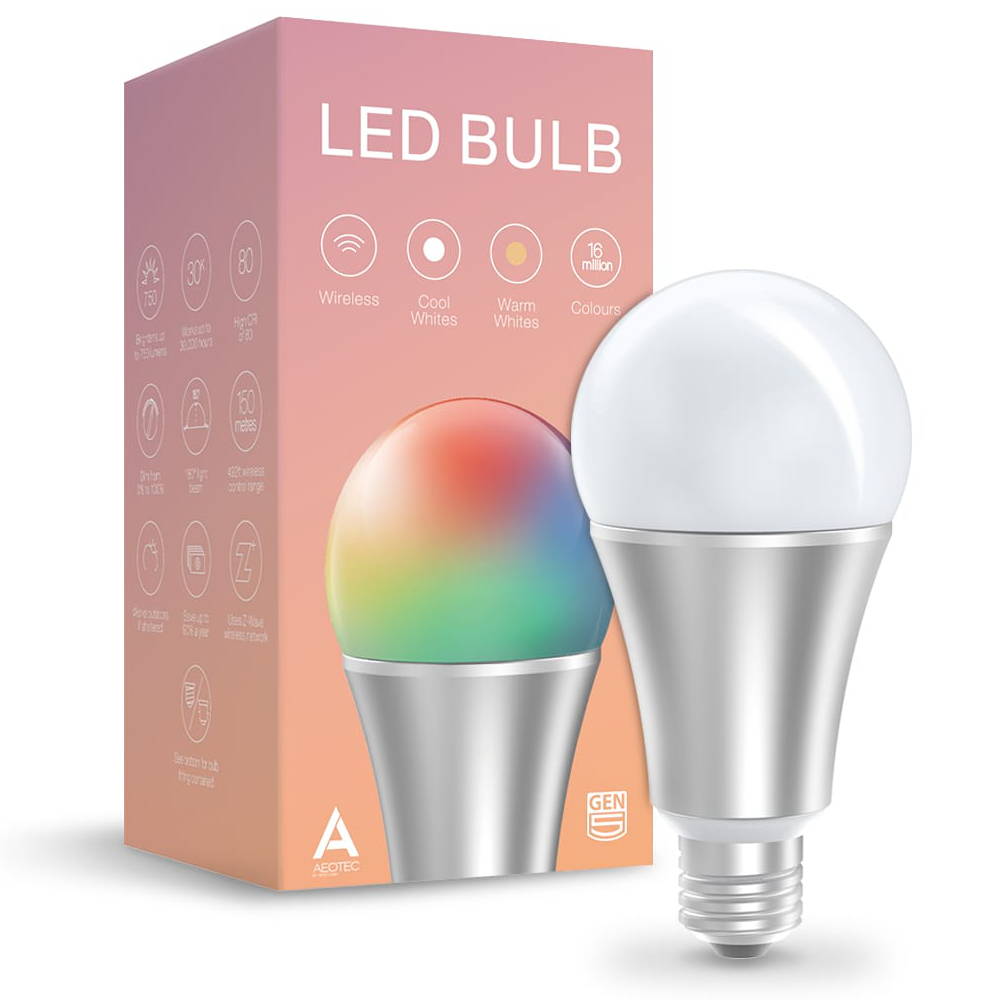 WHAT ARE THE PROS AND CONS?
Smart Bulbs like everything in life have both benefits and drawbacks, used in the correct context however Smart Bulbs can be a fantastic part of your Home Control and Automation System.

Smart Bulbs come in shapes and sizes to fit all applications. They are often fairly inexpensive when only using one or two in a room, and are very easy to install... As easy as changing a light bulb! They are a quick way to add Smarts to your home.
Although a single Smart Bulb is cheap, adding multiple bulbs to a circuit can really start adding up. Where you might have 8 or more lights in the same circuit it really makes sense to look at adding the Smart Functionality to the Switch and using Dumb Bulbs instead.

When you install a Smart Bulb to a Ceiling/Wall light or a Lamp you restrict your ability to use the original switch method. You must leave the original Switch permanently on to be able to control the Smart Bulb with it's Smart Controls. By turning it off at the Switch it simply becomes a Dumb Bulb again, but an off Dumb Bulb.


In the right application this is not a problem, but it can be frustrating when a friend or relative turns off your Smart Bulb at the wall and you lose control of it until you manually turn it back on.