WHAT IS? WHITE COLOUR TEMPERATURE
It can sometimes be a bit confusing when manufacturers throw numbers and technical information at you and expect you to know what it means.


We'll try and clarify what is meant by "White Colour Temperature" so when you can better choose what is right for you.
WHAT DO THE NUMBERS MEAN?
Belfast-born British inventor and scientist William Thomson, or Lord Kelvin created his Temperature Scale relating to Gasses in 1848. During his research, Kelvin heated a block of carbon, progressing from a dim red light, increasing to a brighter yellow as the temperature increased and ultimately a bright blue-white glow at the highest temperatures.

We now use this as the basis of our Colour Temperature range, with lower K values referring to a Warm Reddish White and high K values referring to a Bright almost Blue white.
In our image we can see an old style incandescent lamp, this is at the lower end of the spectrum of available lights. Generally from around 2-3000K we would refer to a Warm or even Soft White.

From 3000-4500K we would call this Cool White. With Colour Temperatures above 4500K being in the Day White or Bright White categories. There are examples of these in our image also.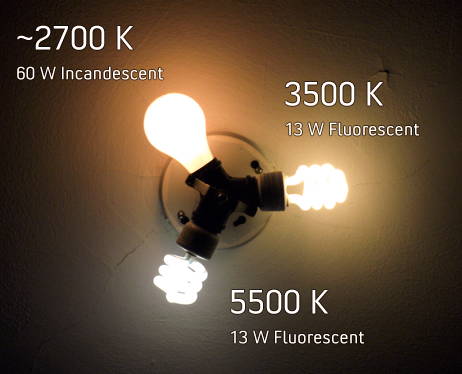 Not only does choice of light Colour Temperature make a significant aesthetic difference to your environment but believe it or not it will also make a difference to your energy levels and health.

It has long been known that the amount of sunlight we receive has effects on the body over time. More recently there has been a lot of coverage to the "Blue Light" effect from using mobile phones late at night keeping you awake.

It has been proven our bodies respond to Warmer Whites by relaxing, while conversely Bright, Day or Cool whites energise and awaken us.
Colour choice therefore is very important for health and well being.
Now we have covered what Colour Temperature is and what it does, where would we use it?

Warm Whites in the ranges of 2000-3000K are ideal for mood setting, and for being able to see in the evening or at night but not be energised and awakened. Wall and Side lights, under counter lighting and bedroom lamps are ideally Warm tones for this reason.

Cool whites in the ranges 3000-4500K are bright and vibrant, these are ideal for your main room lighting or above a shower or sink. These are used where you want to fill an area with clean bright lite to energise yourself.
These are the tones you want in you Office space to help keep you awake and focused. Often Cool Whites are referred to as "Task Lighting".

Day Whites, in the ranges above 4500k are crisper and border on Blue. These are ideal for Security lighting and Display lighting, also for Garages and Workshops. These are the best for energising and you certainly want to avoid these at bed time.